How Naturally Correcting Hormone Imbalance Is Helping Women To Improve Weight, Energy & Happiness (Video)

This video reveals how over 17,000 women worldwide have overcome hormonal weight gain, low mood, and fatigue…
…Without crazy diets or extreme workout plans!
Note: For any woman who feels that something is 'not quite right' within her body, this is a must-watch video
Prefer to read? Click here for the text presentation
Watch this video and discover…

#1. How Even Slight Hormone Imbalances Can Lead To Symptoms Such As Weight Gain, Fatigue, Low Mood, And Loss Of Desire…
…and why it is essential to identify and treat the source of these symptoms.
#2. What It Means When A Hormone Blood Test Comes Back "Normal"…

…and why having results within the "normal range" does not always equal optimal hormone health.
#3. The So-Called "Healthy" Exercise That Can Cause Women Suffering From Hormone Imbalance To GAIN Weight

Discover how this popular exercise can sabotage weight loss efforts and increase fatigue, and what can be done instead to support hormone production and achieve desired weight loss results.
#4. Discover The Power Of "Optimal Hormone Balancing"

Learn how when it comes to hormone health, no two women are the same, and treatments should to tailored to the symptoms and needs of each individual.
#5. Why Hormone Imbalance Often Goes Untreated…

And why it is essential that women refuse to accept that it is "normal" to feel constantly depleted, to be unable to lose weight, or to have chronic and debilitating periods or menopausal symptoms.
#6. How One Woman Beat The Odds And Overcame Hormone Imbalance…

…To achieve the health and happiness that enabled her to be the wife, mother, and friend she had always wanted to be.
The Power of Hormones
By Ange James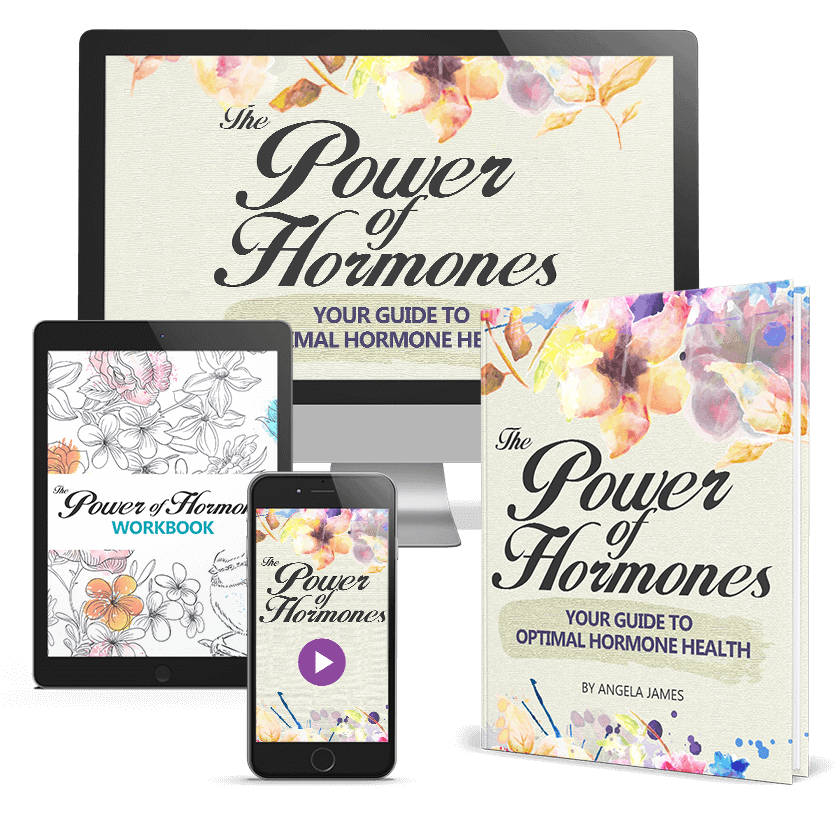 This revolutionary program empowers women to identify and treat hormone imbalance, so that they can become free of unwanted symptoms and achieve optimal health.
Even slight hormone imbalances have the potential to cause symptoms which prevent women from living their best lives.
Whether a woman has an existing hormone condition such as PCOS or Hashimoto's Disease, whether blood test results are within the "normal" range, or even when a woman feels she has already tried everything to better her health, this program is designed to work for ANY woman suffering from symptoms of hormone imbalance.
So whether the goal is to lose weight, improve sleep, increase desire, reduce brain fog, or have more energy, EVERYTHING is covered in this step-by-step program to enable women to look and feel their best.
"No woman should have to simply 'put up' with feeling low and depleted, day after day."

The Power of Hormones is holistic in nature, meaning readers are trained to interpret hormone test results, identify whether hormone levels are "optimal" for their health, and discover all of the natural, synthetic, and herbal options available to treat their specific hormone needs.
Importantly, this program recognizes that women's hormones will change as they age and go through significant hormonal events such as pregnancy or menopause.
Women are guided to manage these transitions and make the best decisions for their health at every stage.
The Power of Hormones comes with a comprehensive 145-page eBook, a handy kickstart workbook for recording symptoms, treatments and improvements, and a complete mp3 Audio Edition for those who would like to be able to listen to the program on the go.
Get Instant Access Today For Just $129 $39
Click Here to Purchase The Power of Hormones

Update: Just Added! – You will also receive "The Bloat Banishing Solution", "Double Your Energy", and "Eating For Hormone Health" as additional extra bonuses for joining today.


Your order is backed by a 60-Day, No-Questions-Asked, 100% Satisfaction Guarantee.
If you're not 100% satisfied with the program for any reason at all, simply email us at ange@powerofhormones.com within 60 days for a full refund.
We have 24-hour email support, 7 days a week. We answer all emails within 8 hours.